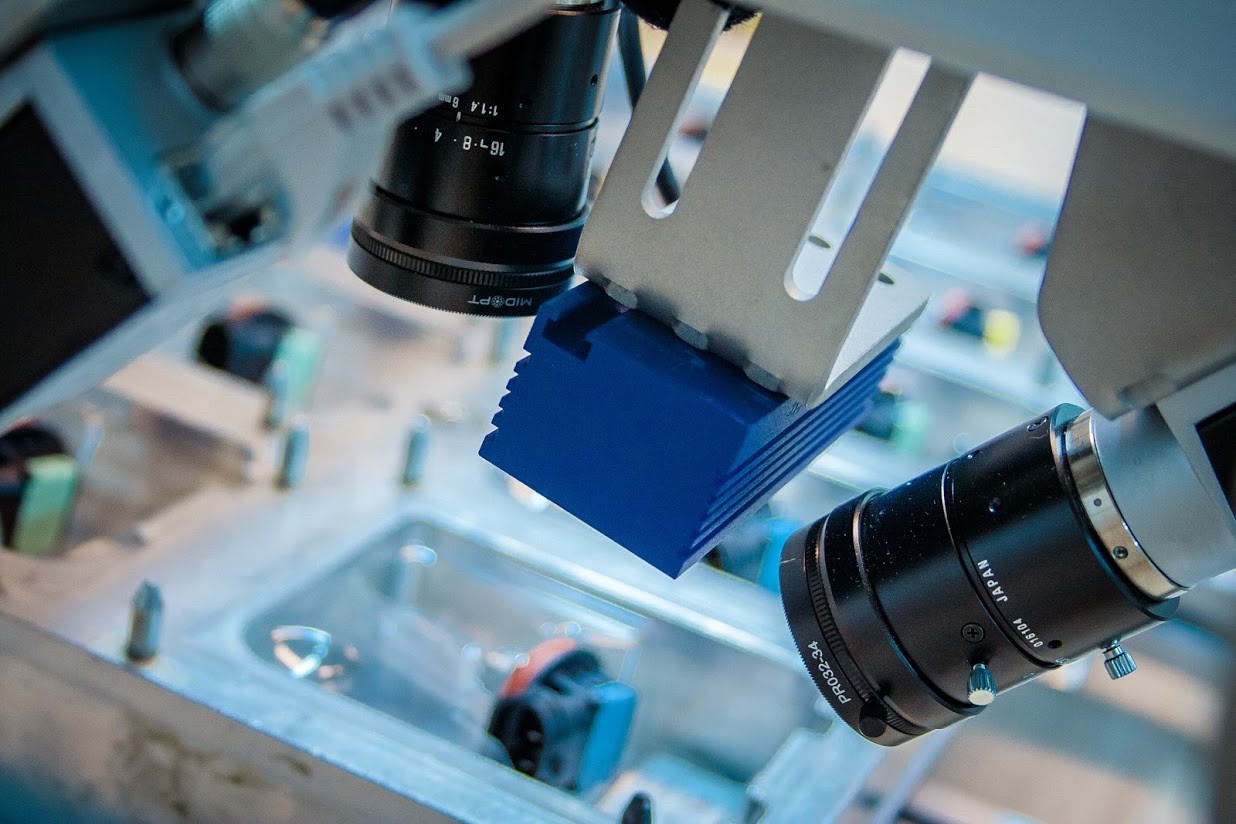 Inspection of correct packing of products in the packaging
13 May 2021
At the final stages of production, the incorrect position in which products are placed in the packaging becomes a frequent problem. The correct arrangement of products in the final packaging is a significant condition not only for the success of subsequent production stages but also for ensuring the correct presentation/quality of the goods on the shop shelves. Apart from errors in the arrangement, it sometimes happens that wrong products, products from a different reference manufactured on the same production line, end up in the packaging, Not only do such errors have an influence on a significant decrease in customer confidence in the brand, but also on an increase in product complaints.
Inspection of the packaging of products into blister packs
Considering the type of the product and packaging, packing of products can be carried out in a few different ways. Our implementation is an example of the inspection of the packaging of products into blister packs. Incorrect arrangement of the products in blister packs resulted in denting and puncturing of the stamped piece, damaging the product. In the worst case, it led to damage to the machine.

Such situations are caused by an incorrect operation of robots, cobots, human error or other unfavourable factors at earlier stages of production, and due to the possible scale of production and short production cycle, the inspection of such errors by employees may not be sufficient.
The developed vision system determines 3D positions of the goods and signals whether they have been correctly placed in the blister packs. The system integrated with the production line can automatically stop it if an error is detected, providing the operator with time to react. The system has been designed to produce multiple references of a given product on a single line and it enables the operator to select the current one on the operator panel.
Our system made it possible to automate the control of the position of products in the final packaging, taking into consideration such defects as:
rotation of the product around its own axis
rotation of the product in the XY plane
shifting the product out of the blister pack
deflecting and lifting the product beyond the blister plane
empty blister pack – absence of the product
redundant products in one blister pack
product not compliant with the order.
The benefits of our system are, above all, the protection of products against damage at the packaging stage and the absence of customer complaints. By detecting errors, the system efficiently cooperates with the production line and minimises downtime, and the inspection process is automated and provides for work with many product variants.
Interested? Contact us!