How to choose the right logistic label
4 Mar 2021
Logistic labels on the collective packaging of products or logistic units are a source of information for management systems of transport, logistics and storage processes. The right choice of materials which they are made of guarantees the correct operation of such systems. The printed information, mostly bar codes, must be legible, whereas labels must be attached to the logistic units in a proper way. Additionally, in case of automated transport processes, they must be attached in an appropriate place.
There are many publications on the Internet which are devoted to logistic labels. Their authors focus their attention mainly on the descriptions of global logistics systems and on explaining which information is encoded in the form of a bar code, e.g., GS1-128, in particular sections of a logistic label.
Since there are so many of them, this will not be an article which once again explains the concepts of SSCC, GETIN, and IZ again (those interested can check out here) I would like to focus your attention on the step before, and that is how to choose a logistic label in a proper way.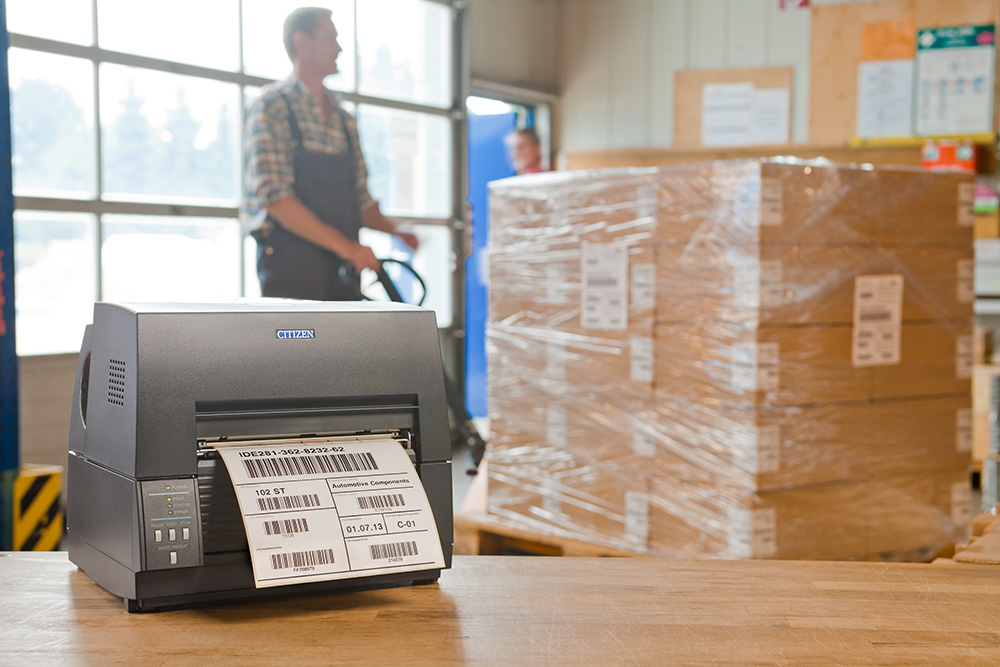 Logistic label adjusted to the conditions
Review of the most frequently used materials and solutions for marking logistic units
Self-adhesive label or adhesive-free marking?
It is very difficult to specify what material the labels are to be made of and which technology should be applied to print them. It depends on numerous factors such as, among other things:
exposure to atmospheric conditions
manner and conditions of label application to the logistic unit
storage and transport conditions.
Self-adhesive labels are, of course, the most popular among logistic markings. They are characterised by a seemingly easy application to the logistic unit, which is frequently automated. In this case, it is particularly important to choose the right type of adhesive for the surface to which the label is to be applied and to the conditions, mainly temperature, in which the label will be applied. For direct application to cardboard packaging and for application in lower temperatures, rubber adhesives with increased initial adhesion are preferred.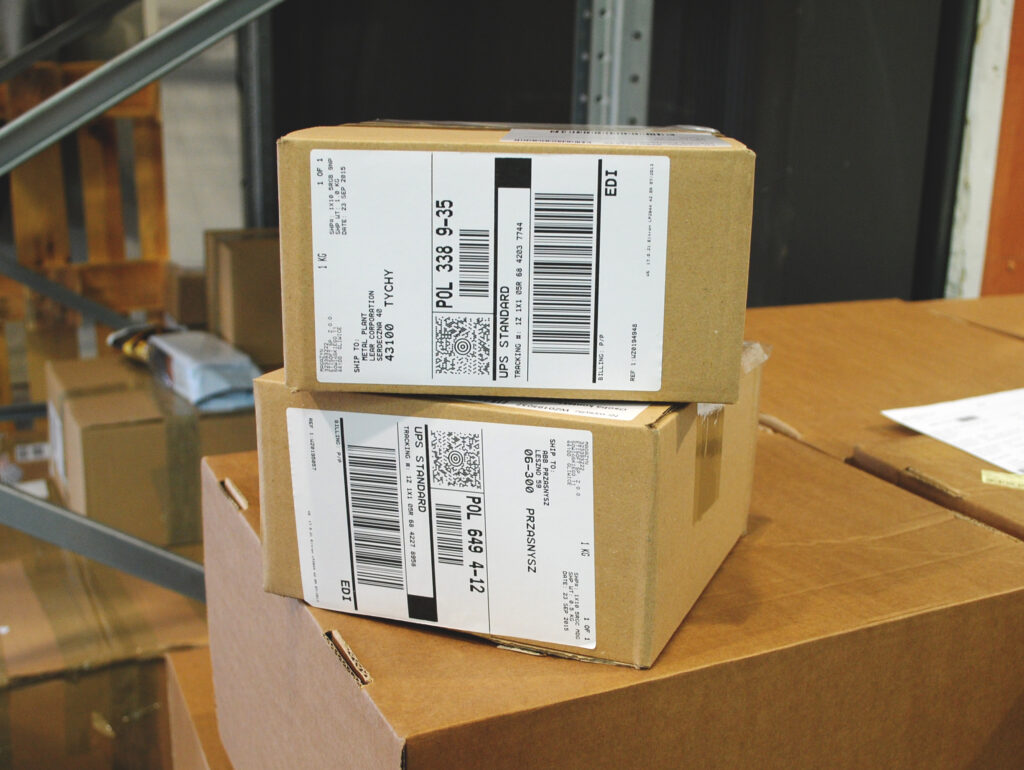 Whereas when applying the logistic label to foil, which is very often used to protect logistic units, labels with a standard acrylic adhesive can be used successfully.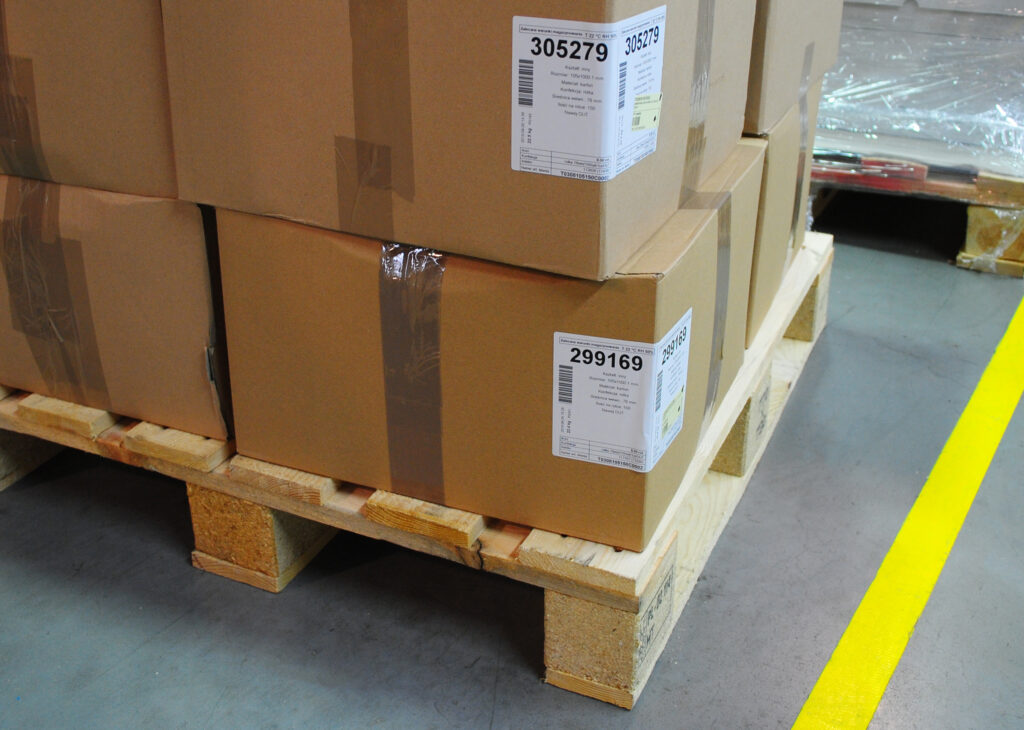 Adhesive-free logistic labels are most often used when the logistic unit is reusable packaging, e.g., plastic crates, which are more and more frequently used nowadays. In this case, the marking is fixed in specially designed holders or with the aid of self-adhesive "DUCT ringlets."
Paper or foil labels?
For economic reasons, self-adhesive paper thermal or thermal transfer labels are most frequently used for logistic markings.
Thermal labels are used mainly for short-term markings or when processes in the company require the application of portable printers for printing logistic labels. These are most often thermal printers.
Thermal transfer labels – the overprint made with the use of a thermal transfer ribbon of appropriate quality is more resistant to scratches than in case of thermal labels. This allows products to be stored in locked warehouses for a longer period without the fear that the printed information and bar codes will become illegible. In such case we recommend wax or wax-resin ribbons from the Carbon group.
Foil logistic labels are intended for marking products and logistic units when they might be exposed to atmospheric conditions. It usually takes place when the pallets are stored in open, external warehouses. In such case we recommend the use of polyethylene or polypropylene labels with a resin thermal transfer ribbon, e.g., Carbon Resin.
Labels and markings in logistics – ask an expert
When choosing a solution for the customer, we do our best to verify all the criteria that can affect the quality of the marking. Before providing the solution, we always verify how the labels will be printed, applied, and in which internal and external processes they will operate. This also concerns logistic labels.
The topic of labels and markings in logistics is quite broad and concerns products from several classes and groups. Therefore, I encourage you to read the following articles where the topic will be developed by, among other things, label printing and application devices, data terminals supporting logistic processes in companies, and RFID solutions.